Related Figures and/or Summary
Unveiling the Crucial Role of Tau-K280 Acetylation in Disease Pathogenesis
275VQIINK280 is a critical motif for tau aggregation of MTBR (microtubule binding repeat).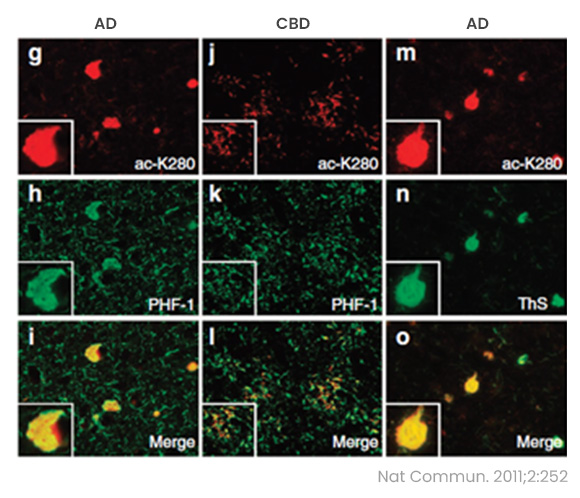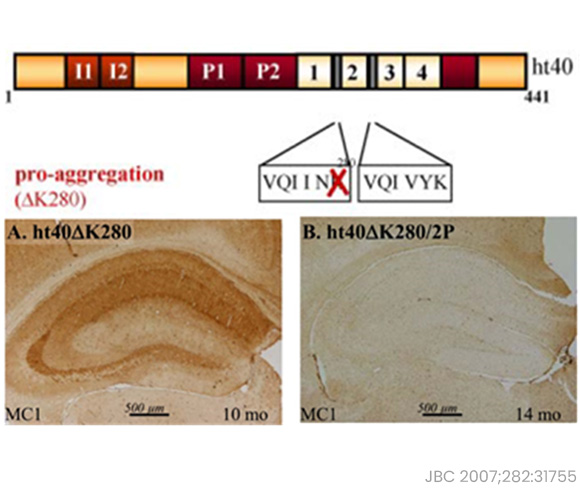 At the heart of disease pathogenesis lies the pivotal acetylation of tau at K280 (tau-acK280). The hexapeptide sequence 275VQIINK280, which encompasses the K280 residue within tau's microtubule binding repeat (MTBR), emerges as a critical motif driving tau aggregation (1).
The tau-acK280 modification has been identified in tauopathies associated with AD and other neurodegenerative disorders (2). Remarkably, patients afflicted by FTDP-17, who lack the K280 residue, manifest tau deposits in the brain (3). This underscore the profound implication that absence or alteration of tau K280 precipitates tauopathies in neurodegenerative conditions. This emphasizes the non-negotiable role of K280 in maintaining tau's native functions within neurons, as deviation leads to the irreversible conversion into proteopathic tau.
Tau-acK280 promotes the formation of short fibrillar aggregates, measuring shorter than 200 nm. This phenomenon may augment the seeding capacity and toxicity of tau species in vivo (4).
1. J Biol Chem. 2005;280(26):24978-86.
2. Nat Commun. 2011;2:252.
3. Am J Hum Genet. 1999;64(2):414-21.
4. J Am Chem Soc. 2018;140(21):6611-21.
Unrivaled Excellence in Action
Discover Y01, the pinnacle of antibody efficacy that outshines its competitors.
A. Elevating the Bar in Tau Seeding/Propagation Inhibition
Witness the remarkable prowess of Y01 as it takes the lead in inhibiting tau seeding. When tested on insoluble tau aggregates from AD brains within HEK-Tau-RD-P301S cells, Y01 reigns supreme in its inhibition, surpassing the impact of other antibodies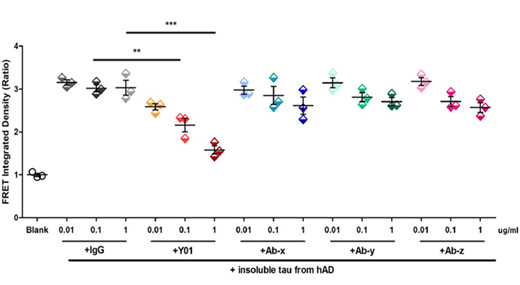 B. Mastering the Art of Tau Aggregation Inhibition
Y01's superiority in inhibiting tau aggregation is unparalleled. As demonstrated in the Thioflavin-T assay of acetylated Tau (acTau), Y01 emerges as the foremost guardian against tau aggregation, leaving other antibodies in its wake.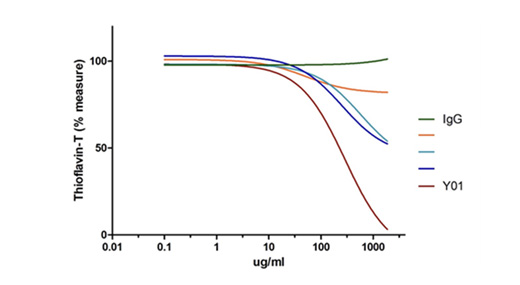 C. Empowering Microglial Tau Clearance
Observe the dynamic enhancement of microglial tau clearance driven by Y01. Through meticulous quantification of BV2 microglial cells, we unveil Y01's distinctive ability to induce tau aggregate uptake, surpassing the performance of other antibodies.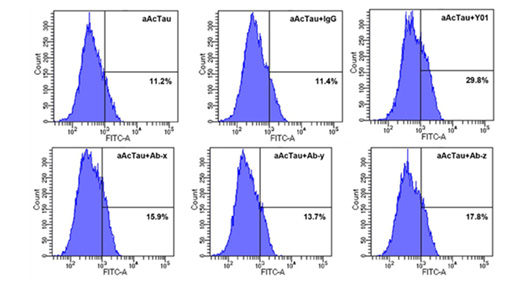 Y01 stands as the epitome of excellence, redefining the boundaries of antibody efficacy in the field. Experience its supremacy and embrace the future of innovative solutions.
IND approval, entry into Phase 1 clinical trial (4Q, 2023)
Pipelines
Discovery
Preclinical
Clinical
Related papers and patents
Papers
Song HL, Kim NY, Park J, Kim MI, Jeon YN, Lee SJ, Cho K, Shim YL, Lee KH, Mun YS, Song JA, Kim MS, Pack CG, Jung M, Jang H, Na DL, Hong M, Kim DH, Yoon SY. Monoclonal antibody Y01 prevents tauopathy progression induced by lysine 280-acetylated tau in cell and mouse models. J Clin Invest. 2023 Apr 17;133(8):e156537. doi: 10.1172/JCI156537. PMID: 36917188; PMCID: PMC10104896.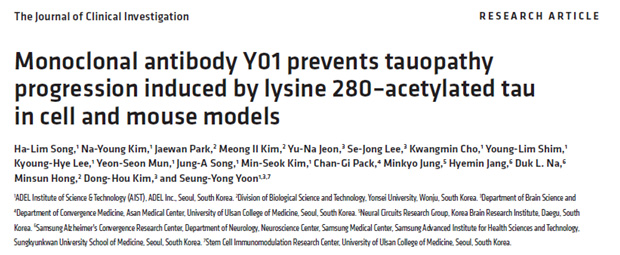 Patents
Anti-tau antibody and use of same (WO2021010712A1)